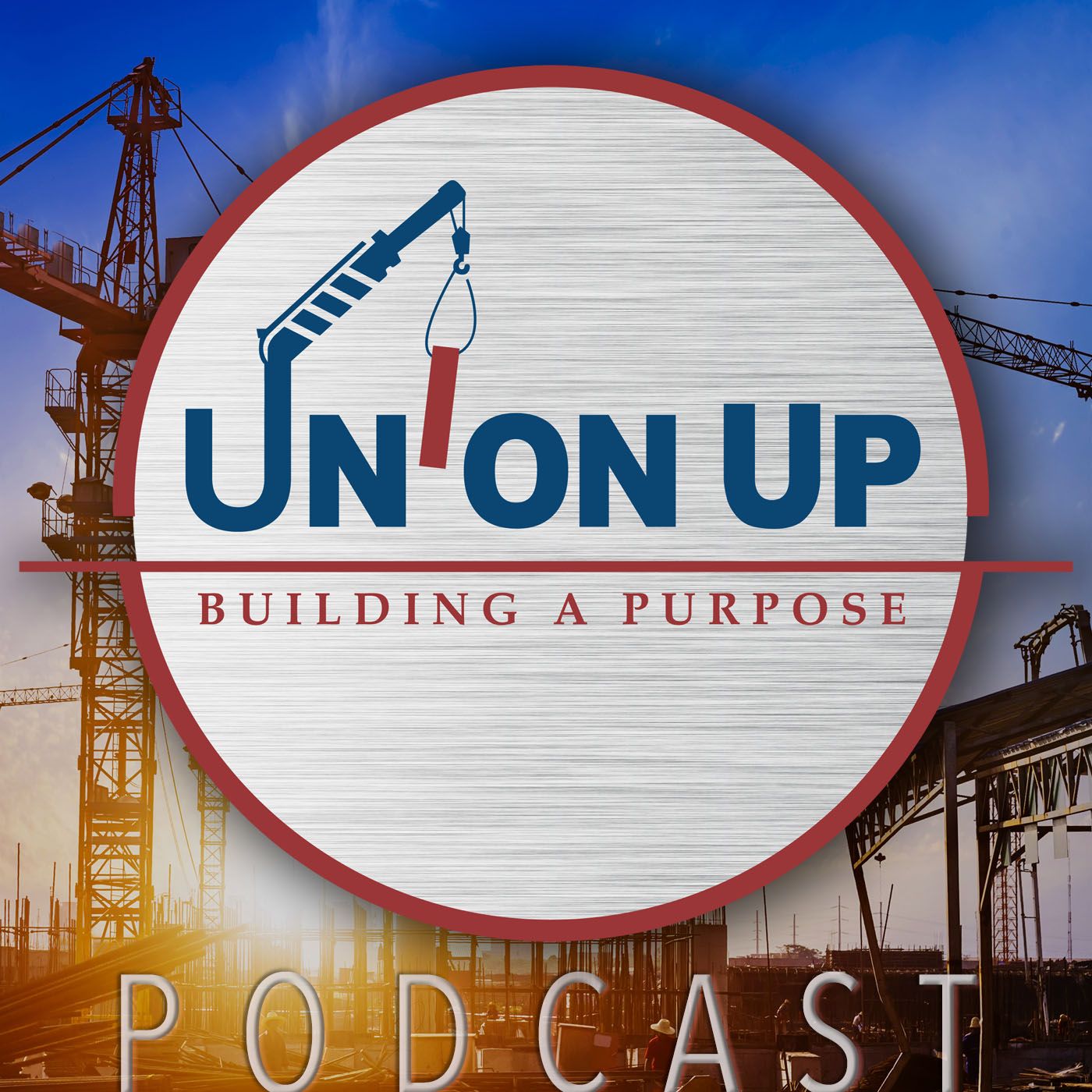 Union Up Podcast is primarily for
Business Managers
and
e-board members
of local trade unions. It is a resource for
interviews, information, and issues
facing local unions all over the country. Union Up supports skilled trade unions because the unions are an excellent place for a young man to
pull himself up
by his bootstraps,
learn
high-demand skills to
build
a productive career, and
belong
to something with a greater purpose than himself.
Episode 9- Talkin' Trades Edition
Randy Beall, Atlanta North Georgia Building Trades, talks about the Future of Trades in Georgia
Randy Beall, Business Manager for the Atlanta North Georgia Building Trades Council and 33-year veteran sheet metal union member, joins Talkin' Trades to discuss the role of ANGBTC in the community, in promoting business opportunities in the trades, and political issues facing the union trades on Capitol Hill. Having recently met with Governor Kemp's staff, Randy shares insights on issues facing local unions and how he and his staff advocate for unions and working families in Atlanta and North Georgia. We also discuss the new upcoming project called "The Gulch" in Atlanta, the idea of casino gambling in Georgia, the local skilled trades unions role in building the new Teamsters building as a 100% union job, the Georgia Building Trades Academy Youth Build Program and more.

Episode 8- Talkin' Trades Edition
Huge Opportunity for Commercial Plumbers and Service Techs
Georgia Construction Careers' Talkin' Trades Podcast Episode 1 welcomes Terry Newsome, Jr., Business Manager for United Association of Plumbers, Pipefitters, & HVACR Service Technicians Local 72. Hosts Randy Beall of Georgia Construction Careers and Rut Walker from Union up discuss the opportunities for service technicians and plumbers particularly in a red-hot 2021 construction market in Georgia. Terry talks about the advantages in being a UA member, the pension and benefits, type of work, how to get into the apprenticeship program, training opportunities, and more.
Episode 7
Davis-Bacon Jobs: Are You Being Paid Fairly?
Most union administration know about Davis-Bacon prevailing wage jobs, but many workers don't. The idea of being paid a fair wage for a fair day's work is something workers often take for granted. The good contractors do it right and comply with the law, but there are others who don't. Workers don't always know about the potential for wage theft from unscrupulous non-union contractors who classify jobs incorrectly and pocket the difference. They often don't know they may be being taken advantage of, and even if they do, they don't know what to do about it. Some fear retribution or losing their job, or not being rehired when that job is finished. The Union Up podcast welcomes Chris Carr, Compliance Manager for the Georgia Foundation for Fair Contracting, and Jarrett Wade, Organizer for the United Association of Plumbers, Pipefitters, and HVACR Technicians Local Union 72 to talk about Davis-Bacon, educating workers on their rights to fair pay, and how to hold unscrupulous contractors accountable.

Episode 6
Infrastructure, Opportunity and Recruiting: What's the pathway forward for Union Construction?
Congress has put forth a massive infrastructure bill and the future looks bright for construction. What does that mean to the local trade unions? What opportunities are most important? How will we recruit for the future as we move through COVID-19 into the new normal? Wimblish Owens, BM for Operative Plasterers and Cement Masons Local 148, Robert Duffield, BM for Iron Workers Local 387, and Randy Beall, BM for the Atlanta North Georgia Building Trades discuss the INVEST in America Act, balancing prosperity and safety through COVID-19, and recruiting new talent to the apprenticeship programs and the Locals.

Episode 5
Construction After COVID - Balancing Safety, Growth, and Opportunity
Now that we are getting back to work, what will construction sites be like? What does our "new reality" mean in terms of worker safety, and how are job sites and projects going to be forever changed as a result? Today we talk with the leadership team of the Southeast's largest trade union, IBEW Local 613. Business Manager Kenny Mullins and Safety Director Mike Bell join Union Up to discuss managing the balance between safety and prosperity for the members of IBEW as we all get back to work.

Episode 4
Answering Your COVID-19 Pay and Benefits Questions
IBEW Local 613 Business Manager Kenny Mullins and President Kevin Swanson answer questions about accessing money from your pension, what to do if you're furloughed or laid-off, when you can expect to be paid, and other specific issues related to the COVID-19 crisis. If you're a member of 613 or any other Local Trade Union, you'll want to listen to this.

Episode 3
Leading Your Local During a Crisis
This is critical information. Workers are getting laid off, membership is uneasy, families are anxious. Construction leadership expert DeWayne Ables from Pioneer IQ provides Business Managers not only an excellent 4-part framework to think about leadership, but also a cadence and plan of execution to put it into practice. Keep your team and membership motivated, communicate effectively, and weather this (or any) storm.

Episode 2
Balancing Safety with Work on the Construction Site During COVID-19
In most markets, Construction is deemed "essential", which is great for our members and their ability to continue earning a living. But what about safety during this new reality of COVID-19? How do we balance staying safe with getting the job done? And what unforeseen opportunities might there be as a result? Atlanta North Georgia Building Trades president Randy Beall joins Union Up Podcast to talk about where NABTU stands on these issues and more. (Recorded April 1, 2020)
Episode 1
COVID-19 UPDATE: Business Manager Roundtable
Union Up's Rut Walker hosts a roundtable discussion from International Brotherhood of Electrical Workers Local business managers Kenny Mullins from IBEW 613 in Atlanta, Lou Antonellis from IBEW 103 in Dorchester/Boston, and Bill Blackman from IBEW 136 in Birmingham, AL. We discuss the impact of coronavirus on the local construction economy, concerns over layoffs, latest news from their jurisdictions, and steps they are taking to keep their members safe and informed. (Recorded March 16, 2020)