Union Up Podcast - Episode 5
Construction After COVID - Balancing Safety, Growth, and Opportunity
Now that we are getting back to work, what will construction sites be like? What does our "new reality" mean in terms of worker safety, and how are job sites and projects going to be forever changed as a result? Today we talk with the leadership team of the Southeast's largest trade union, IBEW Local 613. Business Manager Kenny Mullins and Safety Director Mike Bell join Union Up to discuss managing the balance between safety and prosperity for the members of IBEW as we all get back to work. https://www.ibew613.org
Subscribe to UNION UPdates to be notified of the next podcast release!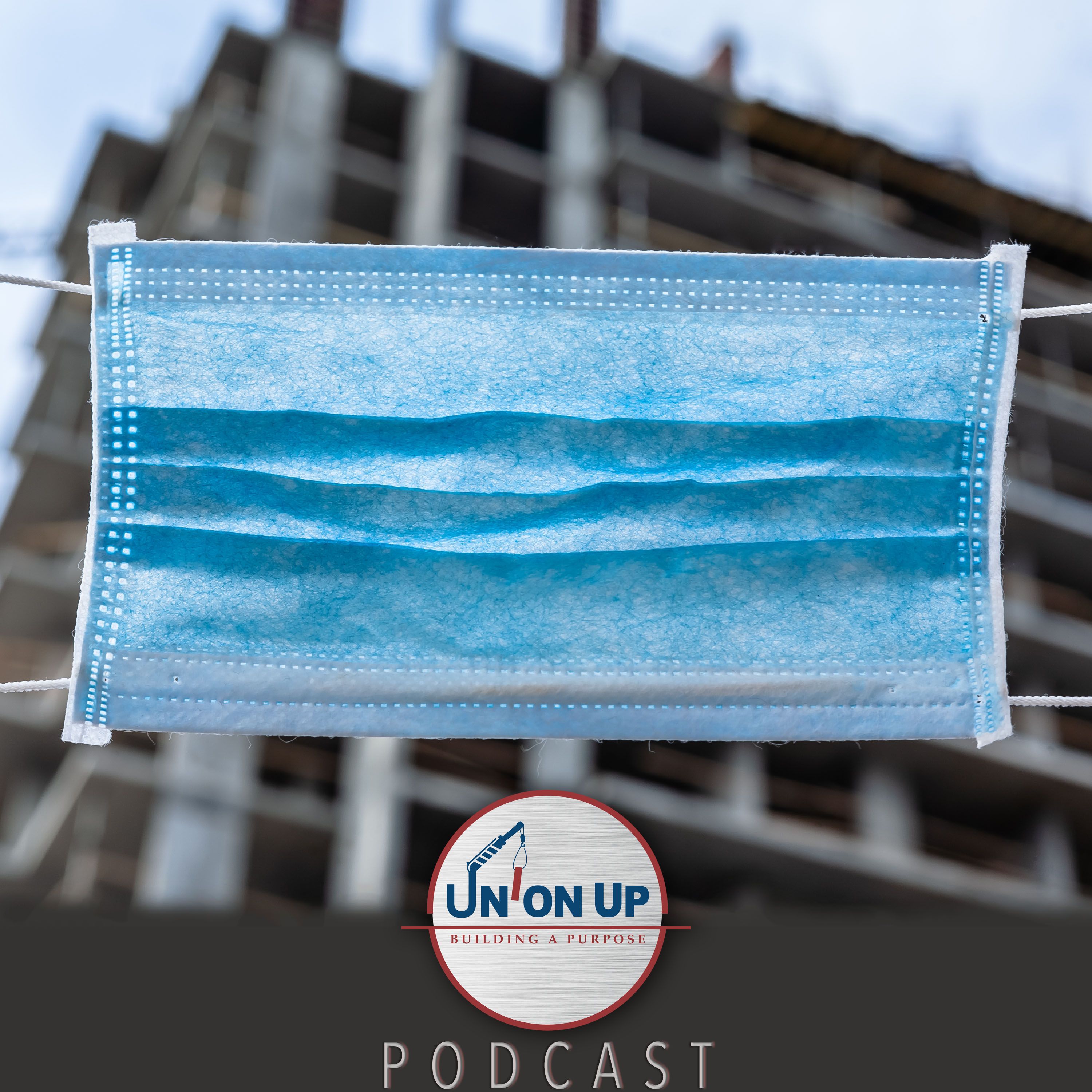 (Transcript) Kenny Excerpt: We're in the business to help change people's lives, help recruit people to help them have a higher standard of living.
Opening: You're listening to the Union Up podcast, a podcast with conversations on issues facing business managers and local trade unions across the country.
Rut: So my guest today is Kenny Mullins, business manager, and Mike Bell, assistant business manager and safety director for the IBW Local 613 here in Atlanta. And I wanted to get a sense of where we are in construction in this market and where we are in construction, really as a whole in the Southeast, because the IBEW really is the heart of the Southeast in terms of skilled trade unions, as it relates to COVID-19 as we're well into June now. And we've done quite a bit of research on larger GCs in the market, as well as the corporate market leaders, such as Southern Company, Georgia Power, Coca-Cola, Home Depot, Delta, etc. And they're all saying the same thing. It's a very politically guarded message to the public about how they're moving forward on the job with PPE social distancing rules, etc, with no real definitive date on when they're going back to work quote "as normal." What are you hearing from your contractors, Kenny?
Kenny: As far as, "as normal" Rut, we're pretty close to pre COVID here at 613. Our man hours only dropped about 10%, from the time March hit up into May and now to June. So we've been working a lot of hours still at the same rate were minus the 10%. We're on track to do around 10 million this year if we keep working the hours that we have over the last few months and, you know, safety is the number one priority. It's going to change and, you know, safety never hurt any industry. So with the social distancing, hand washing, not putting your hands near your face, and just protecting yourself and your families, everything is pretty much back to normal.
Rut: Is the hall itself open now?
Kenny: So the hall's going to open up Monday, this coming up Monday, we're going to open up for foot traffic. You'll come to the local and call us. The mag locks will be on because some of the building tenants are still not coming back in, but our members would be able to come in for foot traffic. We'll give them a code and they'll be able to come in the building and come see us.
Rut: I've been interested in kind of what's some of the unintended consequences of this thing. And I've been reading several articles in Forbes and Chicago Tribune, even the New York Post has indicated that one of the possible consequences of the pandemic will be a rise in the interest of labor unions as a means to protect workers. How do you feel about that? And have you seen an uptick in activity as of yet?
Kenny: Yeah, we have people, more people calling, I guess, new, that are not 613 members daily, trying to inquire about when we'll go back to normal, how, what can they do to join IBEW local 613? So we have got a lot of more cold calls coming in during this of people wanting to join the local then before this COVID-19 pandemic. So there's a lot of people inquiring. This is strange. The as I mentioned earlier, the hours are only down 10%, but I think we could have covered them if it just wasn't for this new change in the anxiety and not knowing what was going on. But yeah, man, we've got people calling us and wanting to join and become part IBEW pretty frequently now through this.
Rut: We run campaigns, recruiting campaigns for the Georgia building trades as a whole. And we've seen a considerable uptick in the number of inquiries, the number of people who have filled out the form of yes, they're interested in and that sort of thing. Have you seen that as well? For the trades as a whole?
Kenny: Yeah, I think on building trades level, we're doing pretty good from what the building trades business managers tell me here in Atlanta. As far as the other individual trades, I hadn't really asked them how they're doing and if their recruiting efforts are more in depth right now, or if they've increased them or who's calling them. So I can't answer to that 100%, but I know here at IBEW 613, we've got a lot of people wanting to join.
Rut: Mike, as it relates to safety, there was a recent article on construction dive and the title was "eight ways coronavirus is going to change construction" and among the ways it was going to change, it's going to change construction. Their take is that job sites will be cleaner and safer. That distancing will be the norm via technology. That projects will take longer, you know, telework will be more common and that again, union influence will grow. What are your thoughts on that and how do you believe this will affect organize labor moving forward?
Mike: Well, I haven't had a chance to read the article, so I'm not familiar with the complete context of that article, but as safety director, my perspective is that cleaner, safe, and safer job site is very possible. I do believe that it's going to take management and employees to completely buy into and to actually implement a solid safety culture that is nonpunitive but accountable, and that can accomplish those goals, but it's going to take a real buy in. Rut, a lot of the construction job sites, they are different, and they have different challenges. Not all one is in the same, so it's really going to take the partnership and I think that's where the union can come in and build that. It is unfortunate that it's taken a pandemic to address these longstanding issues in our industry because definitely cleanliness and safety has been, you know, one of those major issues that we've had to contend with. In regards to distancing, that's a really good question. I think that's something we're going to have to address as time goes on. In our industry, especially with our apprenticeship, one-on-one training is very essential. But I think that's something that we're going to have to take a closer look at and see how that's going to affect us down the road. In regards to projects taking longer, absolutely. I think that's down the pike, but we're going to have to work with our industry leaders, with our partners to address and have a buy in from the customers. The customers are going to have to realize that during these times, and we don't know how long this is going to last. We don't know how this is really going to affect society as a whole. I think it's just one of those things where we need to collaborate come together as a community and, I think that for the most part, though, that the project is taking longer is going to have to have a buy in from the customers. As far as the, I thought it was very interesting to teleworking question, Rut. In general in our industry, absolutely, I think that there's roles that you can telework, but specifically to who we represent in the field, at this time in my thinking about it and talking with you about it, I don't think it's feasible to telework, you know, we're boots on the ground. Whereas, you know, there's a lot of running parts to running a commercial enterprises and putting together a project commercial project or industrial project, there's so many moving parts. So absolutely I think that there's things that can be done to telework to make people safer, but as far as who we represent and the actual workers putting in the labor, I just don't see it as feasible at this time.
Rut: Seems like you guys are so well trained with an apprenticeship program that's accredited and there's a viable track for somebody. It seemed like a better trained workforce, which plays to your favor would give you an advantage in a situation like this. Is that a fair assessment?
Mike: Absolutely. When our people go on the ground, they know they are trained in not just their job, but in OSHA standards. So I think it's not just that people know what the roles are, but people know how to react when a situation arises. Okay. So it's going to keep people safer in the long run, which I think is going to result in customers as well as business owners, seeing that as an asset that, you know, it's not going to hurt, but it's going to help. So yeah, absolutely. I think we have a huge opportunity here to show that when a pandemic like this arises, that we've been doing it right all along. And I think that's really going to play a role in us growing our market share.
Rut: And I'm wondering if things will start showing up in bid specs, like you must have an accredited, you know, Department of Labor approved apprenticeship program in order to bid on this job. You know? So, Kenny, several contractors have workers making more on unemployment than they would on the job, at least until the job until it runs out currently scheduled, I think for the end of July. Are you having trouble filling job calls is as a result. And what are your contractors, are they experiencing the same thing?
Kenny: Yeah, we have a lot of unfilled calls, Rut. We had 53 last week, 45. So they range, I think we've got 24 today, that are unfilled as of this afternoon. Our apprentices are the ones who are getting a good taste of some journeyman wireman money before they get turned out. I tell them, once they turn out they'll even be making more on a 40 hour week now. And that's hard for a lot of those guys to fathom and put into context for them. So that gives them something to keep working for. But it is, it is tough to get them to go to work. And I mean, that's what the government wants to do. Right. And they was trying to offer something where we could pay our bills and these guys could stay home. But to answer your question, yes, it's making it tough. So July 31st is what I'm hearing when they're going to pull the $600 COVID extra unemployment compensation money.
Rut: I'm on the workforce development board in one of the counties here, and I hear contractors talking about, they've learned their lesson from the last downturn in attracting talent. Many of them say that they are using this time to try and pick off some people to come to work for them that they would not normally get a shot at, or at least they're increasing their recruiting efforts so as to be ready when things pick back up, because they anticipate a backlog of work. What talks have you had about recruiting in the skilled trade unions and with the IBEW specifically?
Kenny: One of the things I'm proud to announce is we're going to try to do, it will eventually be the largest job fair in the state of Georgia. We're going to start this next year. We're going to have a large job fair where we're going to rent out space. Our outside organizers at 613 have hit over 200 hundred high school job fairs. So building trades are going to join together and we're going to offer a job fair like nobody's ever seen before, is our goal here in the next year. So we're stepping up the recruiting and that is, you always want people we're in the people business. I told my contractors yesterday, at the end of the day, the business that we're in is not only just construction, but all of us as the local union and as the contractor base, you know, we have over a hundred contracts, we're in the people business. So we're in the business to help change people's lives, help recruit people to help them have a higher standard of living. We're in the business to want these people at these job fairs to say, Hey, I want to be a part of that organization. And I think we base that on compassion and that truly serving people and trying to better folks lives. And that's going to be one step toward that where we can help a lot of new high school kids and things of that nature. Once that job fair gets kicked off and I'm proud to have 14 affiliates in the building trades that we're all going to pull together with our contractor base and throw a large job fair out there moving forward in the future. There are a lot of good things going to happen.
Rut: Man, I think there's a lot of people that have gotten furloughed or laid off or whatever in whatever industry they're in that are taking a hard look about, you know, what they're doing for the future and taking a look at construction and learning an actual skill that can be applied for the rest of their life, as opposed to just moving from job to job, you know?
Kenny: Yeah. And also we want them to, our motto is why would they want to come to the IBW? Because it's more than just a job. We treat each other with respect, compassion. We're there for each other. It's a family outside of your family. And we want people to understand that they can't refuse to come work for the IBEW because they want what we have and what we share with each other. And that's the goal is to help brothers and sisters out and help the community, and we want them. And I think it's working and starting to work around Atlanta and they're saying, Hey, I want to be a part of that organization. Those guys treat each other with respect over there. They really care about each other. So we're doing good here in Atlanta. And I'm proud to have the team I have and to be part of this growth that we're doing here in 613.
Rut: Yeah. I think it's one of the things I'm seeing is that people are yearning to belong to something greater than themselves. And you guys have been doing that for a hundred plus years. So, which is pretty cool to see. Mike, I got a question for you. Locally, one of the things that I read that governor Kemp here in Georgia has implemented is allowing private plan reviews and inspection companies to keep our jobs moving because the COVID is keeping the inspectors and the staff from not working. Do you feel like that's wise and how do you feel that affects your members on the job site?
Mike: Well Rut, you know, anytime you sacrifice standards, which that is unintended consequences. We understand we've got to keep things moving, but, unfortunately the B players will use this to their advantage to cut corners, that in turn, is going to hurt customers and the public safety, as well as workers Rut, I think there's a common sense approach we can use where the governor can come up with something that we can still get inspectors boots on the ground to actually see what's going on. And I think that's feasible just like essential workers are working right now are people that we're representing are on the front lines, putting these jobs in hospitals, things that are essential, things that are going to help the fabric of our society. And I think that is, you know, it's just my opinion, that shouldn't be sacrificed as far as the standards, that will keep workers, not only workers safe, but the public safety safe.
Rut: Agreed. And there's this sort of delicate balance between economic development and keeping projects moving and keeping guys safe, keeping workers safe on the job site from an economic development perspective. It seems like that a lot of businesses in many States who have had trouble getting cooperation from their home state government are looking to more business friendly states like Georgia to move in and operate in. And I was wondering if you'd had any similar discussions like that. And how do you see that directly affecting the future of the IBEW?
Mike: Rut, it's a double-edged sword for me. Obviously we want work for our members. We want to have a vibrant economy here in Georgia. We want what's best for our community. Unfortunately, business friendly is sometimes can mean, cutting regulations, and that can affect our industry worker safety and as well as the community. So I think, I'm all for it. I want it, we want our market share to grow. We want organization to grow, but at the same time, I think we need to hold our public officials accountable and making sure that with bringing businesses in, they might have a different culture. They might have a different background as far as safety culture, as far as their business model, but that doesn't compromise, what really matters. So I think you can have both, I think you can have a business friendly as well as with strong regulations. I just think that's where, you know, we need an informed populace that is involved in the political process, in my opinion.
Rut: I agree. So I'll ask this last question to both you guys, there's been a lot of talk about hiccups in the supply chain due to coronavirus. There's a lot of talk about companies sourcing products in other places other than overseas, and bringing some of that back to the United States, which could mean big things for manufacturing and construction. How do you guys see that affecting IBEW local 613 here in Atlanta?
Kenny: I believe it's going to create a lot of jobs Rut. I'm all for it. I think it's awesome. Anytime that we can bring our products back here to America, that we produce is going to create jobs for everybody and it's going to grow our economy. And I think it's going to be great. I look forward to having more jobs come back here to the country.
Rut: Mike, have you got any thoughts on that?
Mike: I just have to echo what brother Kenny said, I think far too long, it's been forgotten, you know, the American manufacturer. And I think that this may bring it to kind of clear our heads and say, you know, it's all good having a global economy, but we need to, there is nothing wrong with looking to home. As you know, we look to, like you said, the supply chains being cut and having hiccups. We have to look at our infrastructure and have, you know, a really good sit down and talk about our economy, and how that will affect during a pandemic or during any, any other thing that could affect a supply chain and always closer to home, you will have less disruption. So I think it would be, it's a good conversation to have, and I think it needs to be had. And I'm hoping that organized labor can put pressure on our public officials again, to bring our jobs back home, and good jobs, not just jobs that are, you know, minimum wage, but living wage jobs that bring dignity to our community.
Rut: Yeah. And hopefully the public officials will have a better plan. Next time, if this happens, then they did. Kenny, anything you want to say to the brotherhood and the sisterhood out there as we leave here, about what you guys are doing and what's going on at the hall and what you'd like for them to know.
Kenny: Again, I'll reiterate, we're opening up Monday to come down and slowly increase foot traffic for the members to come in and get whatever they need, shirts, hats, mask, to come down and pay dues or whatever it may be. So I just want them to know that. And as always, we are here for you. The guys on that second floor love their jobs. They love the brotherhood and sisterhood. If you have any questions, call us, they'll do anything for you. And we're thinking about y'all stay safe and call us for anything.
Rut: Guys. I appreciate y'all being on.
Mike: Rut, can I say one last thing? This is to all our members. If you are going through any situation where you need to talk to somebody, please call us. We have a helpline for you. We have anything you need. Please call if you're going through anything, and this is a tough time for everybody. It's easy to slip into depression. It's easy to, you know, you're there with your spouse. You're close to home. Any kind of spousal issues, call.
Rut: That's a great point. All right, fellas. Thank you so much for your time.
All: Thank you.
Closing: You've been listening to Union Up, a podcast with conversations on issues facing business managers and local trade unions across the country. For more information on this podcast, or to help your local grow, visit unionup.net